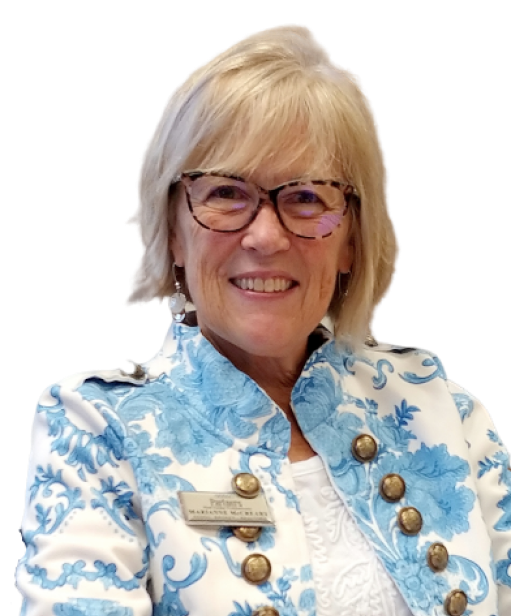 Marianne McCreary
When you speak, I listen! In any relationship communication is key, and I am always here to serve you via phone, text, or email. Your goals are my priority, and I specialize in getting you the best result… not just the result that's most convenient.. To me, you're more than a client - you're a partner, and we're in this together!
A little about Marianne
Business Focus:
A Michigan licensed Realtor®
Marianne McCreary has but one goal:

To give her clients the best real estate experience of their lives. Her career in real estate began in 1988. Flash ahead to 2008, Marianne became an Associate Broker and the co-owner of the boutique-style brokerage, Partners Real Estate Professionals, P.C., located in Southeast Michigan. Marianne is renowned among colleagues and clients alike for her integrity, loyalty and professionalism. She is passionate about the industry and devoted to serving her clients and her community.
Awards and Professional Credentials:
Michigan State University exchange Cooperative
Extension Program for Public Planning and Zoning Certification 2014 / Harris University Accredited
Short Sale Specialist 2011—2013 / CFPB and Dodd Frank Continuing education 2012 / Colgate
University 1978-1981 / E-Pro Certification 2008 / SFR Certification 2010 / Associate Broker License 2012
/ SRES Certification 2013 / District 8 Representative Michigan Realtors® 2015- present / Michigan
Realtors® Leadership Group 2017 / Public Policy Michigan Realtors Committee Michigan Realtors
2015-2016 / Professional Standards Training and Education 2012-2017 / Grievance Committee
Livingston County Association of Realtors 2012-2017 / MLS Industry Update Clareity Consulting
Realcomp and Presentation 2014 http://clareity.com/ / Realcomp Shareholder Task Force Committee
Member 2013-2015 / Michigan Realtors State Convention 2013-2016 / Membership committee for
District and Local Candidate Interviews 2014-2016 / Broker Summit Participant 2013-2017 / National
Association of Realtors Convention 2013 / Michigan Realtors Achieve Convention 2012-2017
Experience:
Partners Real Estate Professionals | 4896 Chilson Road, Howell MI 48843
Co-Owner Associate Broker June 2008 to current – Operate and run an Independent successful company, Mentoring New licensees, Providing Real Estate Services for the consumer,Keller Williams Realty |1006 Grand River, Brighton MI 48116
Residential Real Estate Sales and Market Center Leadership committee 2005-2008
Agent Leadership Council Keller Williams 2006-2007
Appointed Regional Representative Michigan Ohio Center 2007
The Michigan Group Livingston Realtors 1988 – 2006 Sales Associate
Member of Livingston County Associate Realtors 1988- present
Genoa township Zoning Board of Appeals 2011-to present
Genoa Township Board of Review 2017
What People Say About Marianne
"We've used Marianne recently for both buying & selling our homes and everything was perfect! Highly recommend Marianne ❤️ She made it actually simple & painless !"
- Nancu Jarvis McGraw
"We have now bought our 2nd home with Marianne and Partners Real Estate and she was attentive, professional, knowledgeable and easy to work with."
- Kristy Summers
"Awesome experience, and Marianne was the consummate professional throughout the whole process. Highly recommend."
- Peter Lincoln